Motorised Roller Blinds
Add luxury and convenience to your home with motorised roller blinds. For the best quality motorised blinds at an affordable price, choose made to measure motorised roller blinds from Blinds Mates.
Custom Motorised Roller Blinds
All of our custom motorised roller blinds are made to measure, allowing you to have the perfect fit as you open your motorised blinds with the simple touch of a button. Open your motorised roller blinds from the comfort of your own bed in the morning, you don't even have to get up off the couch to close them again at night.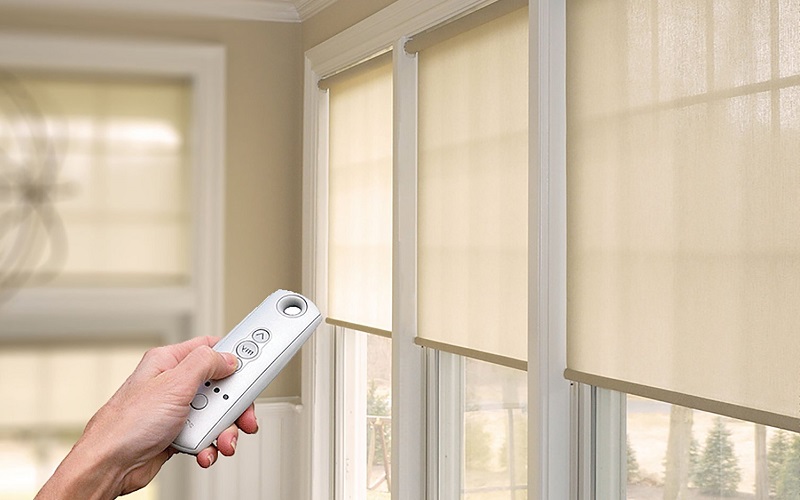 Enjoy the simple convenience of motorised roller blinds, they'll soon enough prove to be a revolutionary force in your life! No more tangled control chains or sticky handles to tug on, your custom motorised roller blinds operate smoothly and quietly with a pristine automated system. Take the measurements of your window space now and send them along to us to get started on your journey to add all new layers of comfort and luxury to your home.
Custom motorised roller blinds are not only just convenient, they also offer you more options than ever when it comes to function and adjustment. Choose a favourite position, activate blinds with only your voice, the multi-function remote and long-life battery gives you so much to play around with. Who knew custom blinds could be this much fun? Control light levels and privacy with the touch of a button, motorised blinds open and close quietly and smoothly.
Streamline the style of your home with the simple quality design of motorised roller blinds, available in an array of colours to suit your home perfectly.
Blinds Mates makes it easy for you to order custom motorised roller blinds, the journey to the ultimate convenience ought to be stress free from the start.
Send us your measurements for a free quote so you can be assured that you will be getting only the top quality motorised roller blinds at the best price for your home.
Once we start processing your order, you can expect only seven working days for delivery all throughout NZ. We bring our top quality service direct to your door and then it's only up to you to get hands-on with your DIY skills to put up your very own made to measure motorised roller blinds.
Take away the hassle of getting blinds for your home by choosing Blinds Mates, we aim to achieve the perfect fit with our custom blinds every time.
The Advantages of Motorised Blinds
Are you ready to enjoy the luxury of convenience? Motorised roller blinds come with many other benefits beyond the touch of button, these include:
Control heating and cooling of your home with ease.

Instant privacy adjusted to sit just right with the ability to set a favourite position.

No longer worry about tangled or stuck blinds, motorised blinds come with a long life battery to move swiftly and quietly.

Allow as much or as little light into your home as and when you like, protecting your furnishings from UV rays and sun fade.

Made to measure motorised roller blinds from Blinds Mates offer you the perfect fit for your window space.

The convenience of opening your blinds from your bedside is not beyond mentioning twice! Take the hassle out of operating large blinds and enjoy the peaceful life.
Free In Home Consultation