Vertical Blinds
Made to measure vertical blinds are great for covering those tricky large window areas. If you've got bi-fold doors or sliders between you and your patio area, you're going to need vertical blinds that don't get dirty or in the way of your in-and-out activities.
Blinds Mates offer vertical blinds made to measure to perfectly fit your large window space. Get custom made vertical blinds to be sure that your window is taken care of, with no room for error.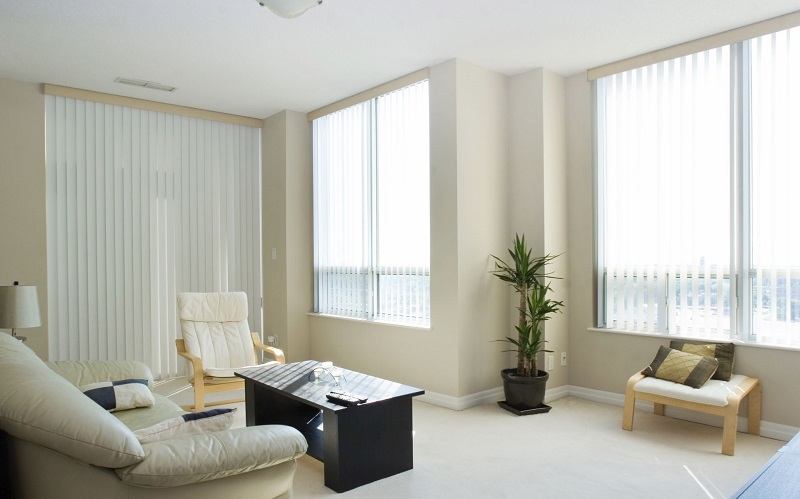 We make it easy for you to measure your own window and send those figures along to us to make our own calculations.
If you need help along the way, we're always here to help. Make sure to use a metal tape measure and take at least three measurements along the width and drop of your space. Don't worry about any additional measurements, we take care of the rest. We like to offer a speedy service on all of our custom blinds, so your made to measure vertical blinds will be with you within seven working days. Blinds Mates deliver direct to your door, all throughout New Zealand. Buy vertical blinds online with Blinds Mates and we guarantee that you'll be satisfied with the quality of our vertical blinds and our service.
For vertical blinds that look neat and tidy when in use as well as stacked, look no further than the array of options Blinds Mates has to offer in our vertical blinds range for sale.
Maximise your view with the choice to stack vertical blinds to the left, right, or split evenly. Don't get tangled up when entering and exiting, vertical blinds with an outside fit clear the space so that you can effortlessly maintain that indoor-outdoor living flow.
Make sure to order your vertical blinds online or by calling us if you have any questions to discuss. We are able to offer free quotes on all custom blinds, so get started on sorting out made to measure vertical blinds for your place today.
It's really easy to get started, simply measure your window space and get in touch to let us know your dimensions. You can choose from an assortment of different styles and colours when you buy vertical blinds online with Blinds Mates. We are proud to offer you quality and choice at an affordable price.
Vertical blinds should aim to enhance your space and offer you the option to filter in as much light as you wish to, whilst keeping you shaded and cool out of the sun. Keep your privacy without shutting the world out by ordering vertical blinds for your windows.
Blinds Mates seeks to take all the stress out of ordering vertical blinds by offering you a quick and easy process to buy vertical blinds online.
The Advantages of Vertical Blinds
Vertical blinds come with many features and advantages to enhance the way your home looks and feels. Be transformed by the following benefits:
The option to filter light and be shaded from the sun as much or as little as you like without being in the dark.

Maintain your privacy from the neighbours but keep your own outlook on the world.

Control the effective heating and cooling of your home the natural way and save on your power bill.

No more furniture fade with the ability to precisely angle the light cast through your vertical blinds with the aid of the control wand.

Easy to keep clean with baby wipes or vacuum with the upholstery attachment.
Free In Home Consultation