Indoor Shutters
Shutters offer a great insulation effect to keep your home cool in summer and well-heated throughout the winter. Wooden shutters look and feel luxurious, they bring a mark of quality and durability to any Kiwi home. Blinds Mates are proud to offer you the best custom made window shutters.
Custom Made
Window Shutters
Indoor shutters from Blinds Mates are crafted to perfectly fit your window space. Simply send us your measurements and we will create custom made shutters to suit any space, shape, and size.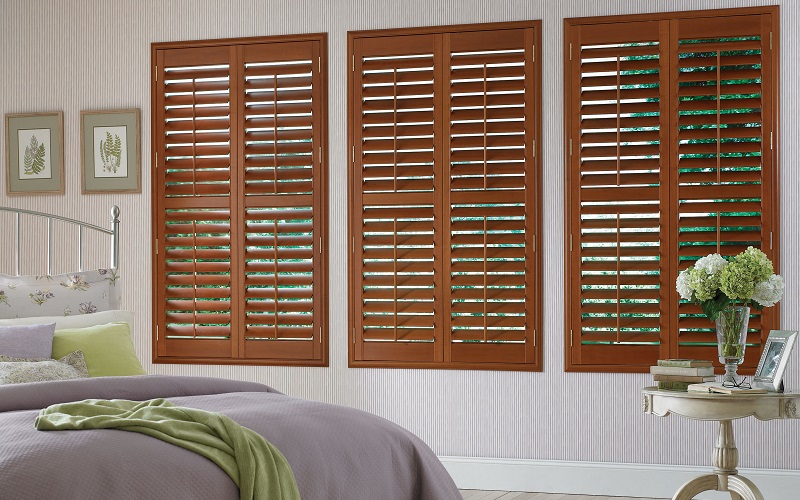 Make sure to use a metal tape measure and take at least three measurements of drop and width. We take care of the rest of the calculations to make adjustments for the perfect fit. And you don't need to worry about delivery either, we process your order quickly with an aim to deliver within 8 weeks, direct to your door all throughout NZ. That's the Blinds Mates difference, we're about delivering quality custom blinds every time. No job is too big or small for us and we understand that quality window shutters can be hard to find, so you can be sure that you're in safe hands with us.
Plantation shutters come in an array of wood stains and colour finishes to perfectly match with your home decoration. You can choose to make a feature out of your shutters or simply add an understated, classic accent to your space. Our lightweight shutters don't look bulky or cramped inside your room. In fact, they can create an illusion of space and light that opens up a space significantly.
Decide how you would like to use your shutters, whether you want them to slide open as bi-folds, remain fixed or have the ability to be folded on hinges. It's all up to you how you want window shutters to function in your home.
Blinds Mates are here to listen and help point you in the right direction of our custom shutters and blinds available to suit your needs.
We make it easy to buy custom window shutters online with our simple ordering system that involves a little bit of us working together with you to ensure the perfect fit. Working off your measurements, we process your order to craft quality interior shutters for your space. Our team is always available to chat should you have any questions throughout the ordering and installation process.
The Advantages of Indoor Shutters
Shutters offer great insulation as their primary benefit, but we've listed some more below in case you need some more convincing:
Shutters help to effectively cool your home in summer and keep the heat indoors when you need to stay cosy in winter.

Privacy is never an issue when it comes to shutters, you can see out but the neighbours need not see in.

Style and durability with a perfect fit is a top advantage of made to measure window shutters, Blinds Mates get it just right for you every time.

The option to choose an operating system based on how you wish to use your window space – whether you want fixed or sliding, bi-fold or hinged, we can make your custom window shutters specific to your needs.
Free In Home Consultation